Scrolling through my old posts, I came across Top Ten Moments of Rose Tyler, and wondered if anyone had ever done something similar for Martha. The first Black woman to travel in the TARDIS has suffered all manner of under-appreciation: even her fans spend their time bemoaning her treatment by RTD or the Doctor, or complaining about Rose. It's rare she's valued for her own merits. But Martha is the most grown-up of the modern companions. As a medical student, she far exceeds her fellow travelers in education and book-smarts. As the parent-figure of her own family, she is the most responsible adult among them. Also, she's a bad-ass who learns to take care of herself while taking care of everyone around her.
In fact, the Radio Times did a Top Ten for Martha much as they did for Rose. However, as I disagree with almost every one of their choices, here instead is my own selection of Martha's best moments – to the best of my recollection, as I haven't watched her series in a while. In order of appearance:
#1. We Might Not Die
Finding herself on the Moon, Martha doesn't worry about running out of air. Instead, she appreciates the wonder of the moment – in spite of the risks.
#2. Expelliarmus!
Put on the spot, Martha provides the magic necessary to seal Shakespeare's witches away forever. Incidentally, this is not the only reference to her literary choices: in Eleven Doctors, Eleven Stories, Martha acknowledges the breadth of her reading – up to and including Twilight.
#3. In Heels, No Less!
If I could do screen caps, I'd have a better picture for you. In "The Lazarus Experiment," wearing THAT DRESS and THOSE SHOES, Martha Jones jumps over a table to shut down a machine to free partygoers trapped in a burning building. This is the kind of woman we're dealing with: quick-thinking, fast-acting, and steady on her pins.
#4. Would You Like Some Tea?
Another example of Martha's quick thinking is this conversation from "Human Nature" by Paul Cornell:
MARTHA: Would you like some tea?
JENNY: Yes, thanks.
MARTHA: I could put a nice bit of gravy in the pot. And some mutton. Or sardines and jam. How about that?
JENNY: I like the sound of that.
MARTHA: Right. Hold on a tick.
The Doctor has forgotten her. Aliens are invading. Her one friend in this world is acting a bit odd – and Martha doesn't miss a trick.
#5. So, So Sorry
Again, if I could do screencaps, you'd have the moment I mean.
From Professor Yana's lab, Martha overhears a conversation between the Doctor and Jack, two old friends separated by metal and death, and united by a woman:
DOCTOR She's gone, Jack. She's not just living on a parallel world, she's trapped there. The walls have closed.
JACK: I'm sorry.
In this moment, Martha gets the truth about the Doctor and Rose, and the depth of his grief. In this moment she finds her compassion.
#6. I'll Do What I Like
Back on Earth, Prime Minister Saxon has just blown up her home. Her family is in danger. The Doctor tries telling her what to do.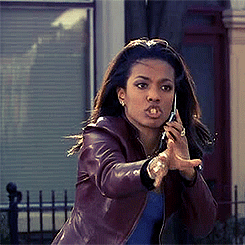 It doesn't go well.
#7. I'll See You Again, Mister
Her family needs her. Her planet needs her. Her time with the Doctor was fun, but it's time to be the doctor herself.
She leaves him by choice, and in friendship, and she leaves him with orders:
"If that rings, when that rings, you'd better come running. Got it?"
Good thing too, because…
#8. I Thought We Needed An Expert
Martha has finished her medical degree and gone to work for UNIT, the one employer she can find who knows about aliens. Now they're in over their heads – and like Mickey at Deffry Vale, Martha knows just who to call.
#9. I've Got You
She didn't want to go to Messaline, and now she's separated from her friends and her ride home. But instead of an armed alien, she sees someone who needs her help – and she won't be stopped from helping.
#10. Dat Hair
Martha Jones can save the world, snag a man, and rock her hair game. Yas queen.